Trout Fishing in the Northern Highlands
---
Trout Lochs of the Northern Highlands
The Northern Highlands offers some of the best wild brown trout fishing in Europe, with many anglers returning year after year to fish its pristine waters. In general, the best trout fishing in the region will be found on lochs, as the feeding is generally richer there than in our rivers. Trout fishing on rivers is also less easy to find, as most rivers are fished primarily for Atlantic salmon.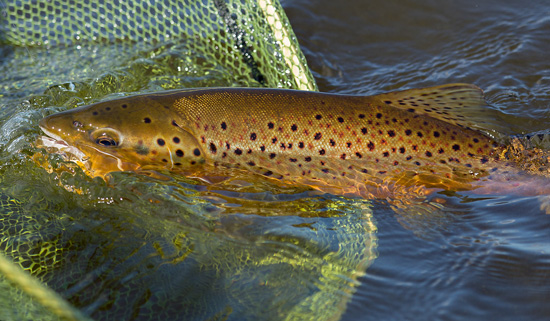 'Highland Gold'
Scope
The interactive maps on this site show the locations of over 300 wild brown trout lochs; in most cases providing basic permit information and links to other online resources. The written content provides more detailed information on specific lochs in some of the main trout fishing areas that you may drive through or near, while touring on the NC500 route. Please note, this is not a definitive list of all the trout fishing spots on the NC500. There is even more trout fishing available on the route than described here, so if you see somewhere else 'fishy' on your trip, please enquire locally.
Licences, Permits & Methods
The legal season for wild brown trout fishing in the UK runs from 15th March to 6th October, but most trout lochs and rivers in the Northern Highlands do not open until April, and in some cases the beginning of May. There is no close season for stocked rainbow trout fisheries which may be open earlier or later in the year.

There is no requirement in Scotland to have a rod licence to fish, however anglers must have permission, and in some cases it is a criminal offence to fish without it, so please ensure that you buy a permit from the appropriate source before you start fishing. Salmon and sea trout fishing is not permitted on Sundays anywhere in Scotland. Although trout fishing is legally permitted, many trout lochs and most rivers in the Highlands are closed on Sundays.
On most lochs and rivers, fly fishing is the traditional and only method permitted for wild brown trout fishing, as it is best suited to modern angling conservation practices. That said, spinning is permitted on some of the larger lochs. Tackle shops will often be able to advise you as to where spinning and bait fishing are allowed locally.